[Scroll down for English]
Mikä on "Tattoo Circus"?
Tattoo Circus on TSI-konseptilla järjestetty festivaali sortoa ja
vankiloita vastaan sekä vangittujen tukemiseksi.
Tämä on toinen Tattoo Circus -tapahtuma Helsingissä. Ensimmäinen
Tattoo Circus järjestettiin Roomassa 2007, jonka jälkeen aktivistit
muun muassa Barcelonassa, Berliinissä, Lontoossa, Thessalonikissa ja
Zaragozassa ottivat asiakseen järjestää vastaanvanlaisen tapahtuman.
Tänä aikana tuhannet ihmiset ovat osallistuneet ja tukeneet ottamallaan
tatuoinnilla niiden ihmisten asiaa, jotka eivät pysty olemaan luonamme nyt.
Tämä solidaarisuustapahtuma ajaa asiaa itsensä ilmaisemisen ja
poliittisen kamppailun puolesta. Tattoo Circus luo tilan, jossa
tatuointikulttuuri ja kamppailu vankeutta ja sortoa vastaan yhdistyvät.
Festivaalissa tatuointiartistit laittavat peliin aikansa, kokemuksensa,
luovuutensa ja niin paljon mustetta kuin mahdollista tukeakseen tätä
kamppailua ja tullakseen osaksi sitä. Tattoo Circuksen periaate on,
että kukaan ei ansaitse tapahtumalla mitään – tatuoitsijat
tai muut artistit eivät työskentele oman voitontavoittelunsa vuoksi.
Kaikki tukijat ja tekijät tarjoavat omat tietonsa, energiansa ja
resurssinsa poliittisen vakaumuksen ja solidaarisuuden tähden. Mukana
kulkee tietoisuus siitä, että kerätyt rahat menevät niille, jotka
päämäärätietoisesti kamppailevat valtiota, kapitalismia ja vankiloita
vastaan niiden sisä- ja ulkopuolella. Tattoo Circus tapahtuu
ilmapiirissä, jossa ei ole tilaa kilpailulle, elitismille tai
kaupallisuudelle. Laittamalla paino solidaarisuudelle, yhteistyölle ja
osallistumiselle, autamme niitä jotka kamppailevat toisenlaisen maailman
puolesta.
Jokainen euro menee rakenteisiin, jotka tukevat vangittuja ja vankilan
vastaista kamppailua! Tattoo Circus -tapahtuman aikana on mahdollisuus
saada tietoa monista (poliittisista) vangeista. Tattoo Circus ei
rajoitu pelkästään tatuointikulttuuriin. Työn alla on runsas ohjelma,
joka liittyy monin tavoin vankila- ja sortoteemaan, ja joka kutsuu
osallistumaan.
Kutsumme sydämellisesti kaikki mukaan, tukemaan ja rikastuttamaan tätä
projektia.
Koska solidaarisuus vangittuja tovereitamme kohtaan on yksi mittari
vastarintamme voimalle!
Yhteiskunnalle vailla vankiloita ja sortoa!
Maailmalle ilman vallanpitäjiä!
tattoocircushki[at]riseup.net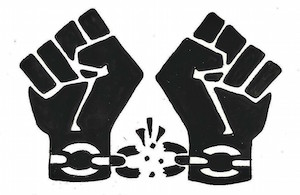 What is "Tattoo Circus"?
Tattoo Circus is a DIY-organised festival against repression and imprisonment and for the support of prisoners.
Even though this year marks the second Tattoo Circus event in Helsinki, the idea isn't new! After the first Tattoo Circus took place 2007 in Rome, activists from Barcelona, Berlin, London, Thessaloniki and Zaragoza (just to mention a few cities) took on the concept. Meanwhile, thousands of people have participated, and today they gaze at those parts of their bodies with which they supported those people who can't be among us.
The idea behind this solidarity event is to promote self expression and political engagement. Tattoo Circus creates a space where tattoo culture and the fight against imprisonment and repression will come together. Several tattoo artists will provide their time, experience, creativity and as much ink as possible, in order to support this struggle and to become a part of it. The principle of the Tattoo Circus is that nobody earns anything from this event – neither the tattooists, nor the piercers, and other participants will work for their own profit. All supporters provide their knowledge, energy and resources because of political conviction and solidarity, with the awareness that the complete proceeds will get to those people who fight with determination against the state and capitalism. As opposed to some established conventions, the Tattoo Circus takes place in an non-competitive, non-commercial and non-elitary atmosphere. By putting the emphasis on solidarity, cooperation and participation, we help those who fight for another world.
Every euro will go to structures supporting prisoners and the Anti-Prison-Fight! During the Tattoo Circus event there will be information provided about the cases of many imprisoned comrades. The Tattoo Circus won't limit itself to tattoo culture! A rich programme is being prepared, that will engage itself in various forms with the topics of prison and repression, and that will invite to participate. There will be talks, workshops, movies, tarot card reading, music, info points about prisoners, as well as a mail corner to communicate with the detainees! There will also be vegan food and refreshments available.
We cordially invite everybody to join, help and enrich this project.
Because the strength of our resistance also measures itself with the solidarity to our detained comrades!
For a society without prisons and repression! For a world without rulers!
tattoocircushki[at]riseup.net
Accessibility
Oranssi is accessible by wheelchair. Toilets are unisex and there's one
toilet that is accessible by wheelchair.