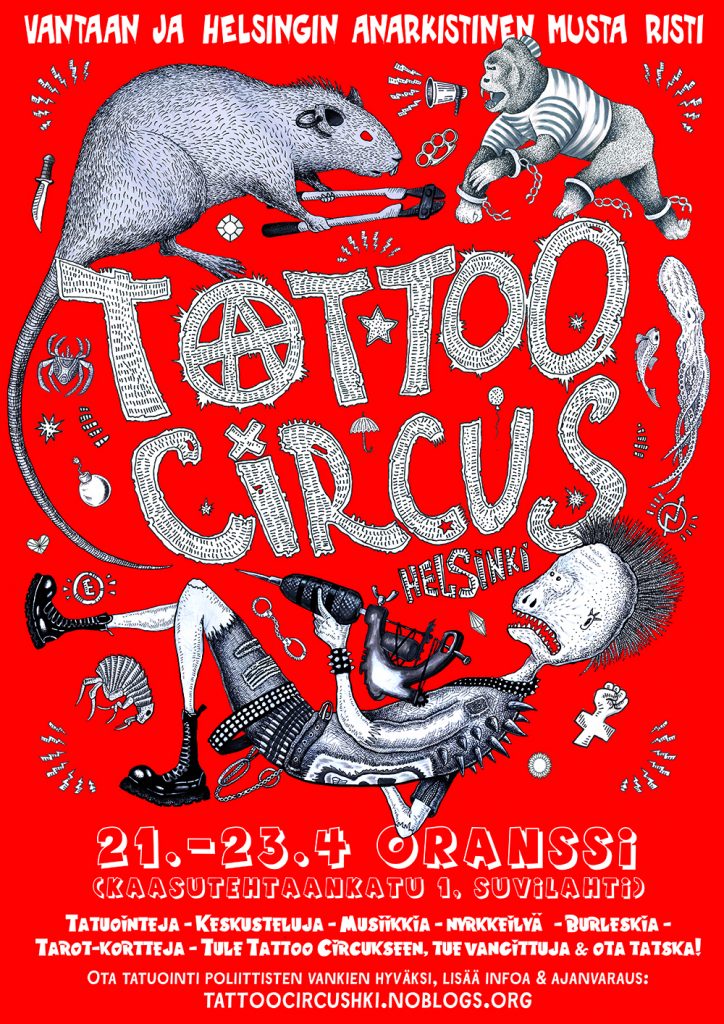 Tsekkaa Facebook tapahtuma: Tattoo Circus Helsinki 2017
~Tatuointeja  – Tarot kortteja – Musiikkia – Distroja – Keskusteluja ~
Tule Tatuointisirkukseen 9.-10.4.: Tue vangittuja & ota tatska!
Kupoli, Mannerheimintie 5b, 7krs.
Tatuointisirkus järjestetään Kupolissa, joka sijaitsee Helsingin ydinkeskustassa. Festivaalin aikana on mahdollista ottaa tatuointi poliittisten vankien tukemiseksi – mutta ei siinä vielä kaikki! Tatuointien ohella paikan päällä on myös lävistystä, stick-and-poke -tatskatyöpajoja, musiikkia, keskusteluja, distroja, vegaanista ruokaa ja paljon muuta. Kupolissa on infopiste auki koko festivaalin ajan, jossa on mahdollista kirjoittaa postikortteja tai kirjeitä vangeille.
Lauantaina ja sunnuntaina ovet aukeavat klo: 11
Tatuointitilat ovat auki la klo: 12.00-22.00.
Muut tilat ovat auki klo: 24.00 asti.
Sunnuntaina tatuointitilat sekä muut tilat ovat auki klo: 12.00-18.00.
Varaa aika tatuoitavaksi, lue lisää: Tattoo Circus, katso tapahtuman ohjelma, tai ota yhteyttä.
Tsekkaa Facebook tapahtuma
Kiitos kaikille, jotka ovat osallistuneet projektiin!
———
~ Benefit – Tattoos – Food – Tarot Cards – Music – Distros – Talks – Radical Stitching ~
Come to the Tattoo Circus 9-10.4 to support prisoners and get inked!
Kupoli, Mannerheimintie 5b, 7th floor
The Tattoo Circus is coming to Helsinki! The festival will feature tattoo artists ready to give you a tattoo in support of political prisoners – but that's not all – apart from tattoos there will also be piercing, stick-and-poke tattoo workshops, music, talks on different prisoners, distros, food, and much much more.
There will be an info-point open throughout the day, with the ability to send postcards and letters to prisoners.
On Saturday and Sunday the doors open at 11am
Tattoo space is open Sat: 12.00-22.00.
Other festival events are open until: 24.00
On Sunday, the tattoo space, as well as other events start/are open from: 12.00-18.00.
Book a tattoo, read more about Tattoo Circus, read our program, or contact us.
Check out the Facebook event.
Thank you to all who have contributed to the project!