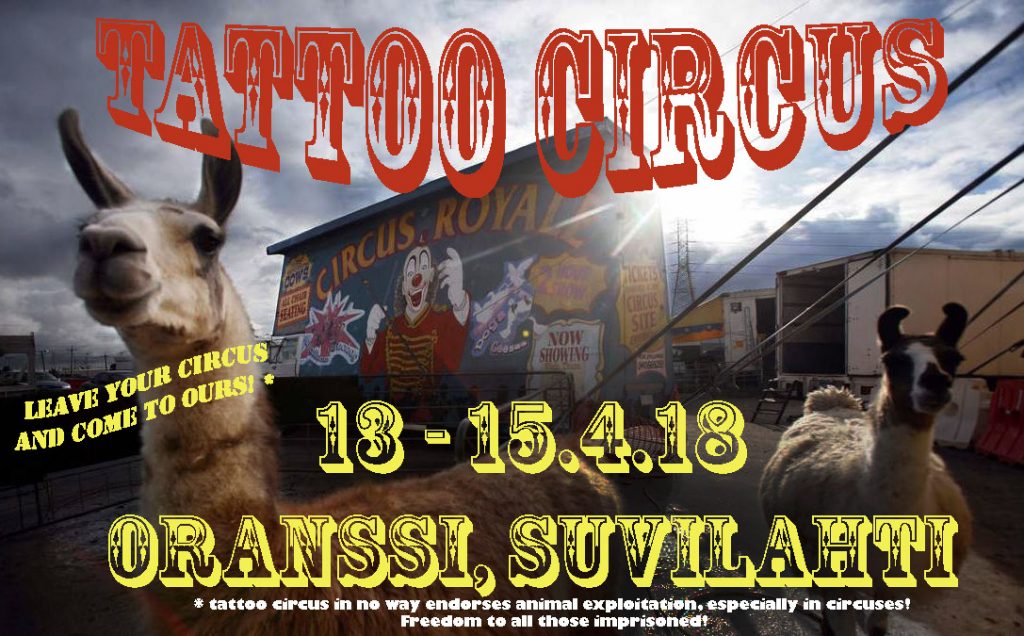 -Tatuointeja – Tarot-kortteja – Musiikkia – Distroja – Keskusteluja-
Tule Tattoo Circukseen 13.-15.4.: Tue vangittuja & ota tatska!
Oranssi, Kaasutehtaankatu 1 (rakennus 11), Suvilahti, Helsinki
Tattoo Circus järjestetään tänä vuonna Oranssilla, joka sijaitsee Helsingin Suvilahdessa. Festivaalin aikana on mahdollista ottaa tatuointi poliittisten vankien tukemiseksi – mutta ei siinä vielä kaikki! Tatuointien ohella paikan päällä on myös mm. stick-and-poke -tatskatyöpaja, musiikkia, keskusteluja, burleskia, nyrkkeilyä, distroja, vegaanista ruokaa ja paljon muuta. Oranssilla on infopiste auki koko festivaalin ajan, jossa on myös mahdollista kirjoittaa postikortteja ja kirjeitä vangeille.
Ota yhteyttä: tattoocircushki[at]riseup.net
— — —
 -Benefit – Tattoos – Food – Tarot Cards – Music – Distros – Talks-
Come to the Tattoo Circus 13-15.4 to support prisoners and get inked!
Oranssi, Kaasutehtaankatu 1 (building 11), Suvilahti, Helsinki
The Tattoo Circus is coming to Helsinki! The festival will feature tattoo artists ready to give you a tattoo in support of political prisoners – but that's not all – apart from tattoos there will also be stick-and-poke tattoo workshop, music, talks on different prisoners, burlesque, boxing, distros, food, and much much more.
There will be an info-point open throughout the day, with the ability to send postcards and letters to prisoners.
Contact us: tattoocircushki[at]riseup.net