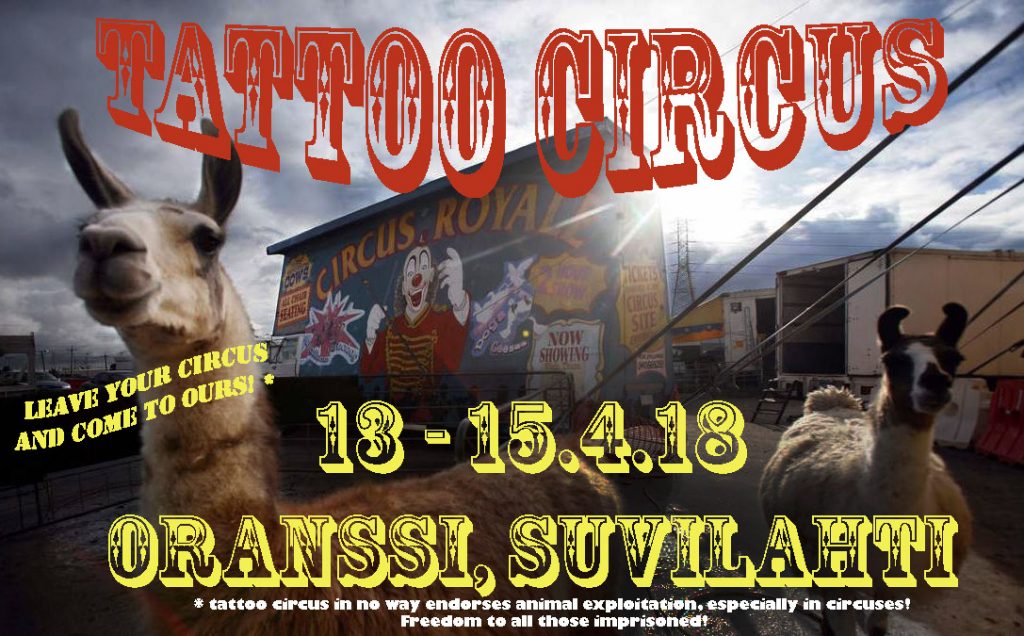 -Tatuointeja – Tarot-kortteja – Musiikkia – Distroja – Keskusteluja-
Tule Tattoo Circukseen 13.-15.4.: Tue vangittuja & ota tatska!
Oranssi, Kaasutehtaankatu 1 (rakennus 11), Suvilahti, Helsinki
Tattoo Circus tulee nyt kolmannen kerran Helsinkiin! Vuosittainen tapahtuma järjestettiin täällä ensimmäistä kertaa keväällä 2016. Eri Euroopan kaupungeissa Tattoo Circus -tapahtumia on kuitenkin järjestetty jo vuodesta 2007 lähtien. Tapahtumassa on tatuointien lisäksi vankila- ja sirkusteeman ympärille rakennettu ohjelma, joka kutsuu osallistumaan! Tänä vuonna ohjelmassa on mm. sirkusta, tarot-työpaja, bingoa, hiustyöpaja ja paljon muuta. Lisäksi ohjelmaa täyttävät musiikkiesitykset sekä erilaiset keskustelut ja alustukset poliittisten vankien tilanteesta ympäri maailmaa. Ja tietenkin festivaalin aikana on mahdollista ottaa tatuointi sekä kirjoittaa postikortteja ja kirjeitä poliittisten vankien tukemiseksi.
Ota yhteyttä: tattoocircushki[at]riseup.net
— — —
 -Benefit – Tattoos – Food – Tarot Cards – Music – Distros – Talks-
Come to the Tattoo Circus 13-15.4 to support prisoners and get inked!
Oranssi, Kaasutehtaankatu 1 (building 11), Suvilahti, Helsinki
Tattoo Circus arrives to Helsinki third time! Annual prisoner support event and -festival was organised first time here in spring 2016. In different European cities Tattoo Circus have been organised already since 2007. Tattoo Circus is not limited to tattoo culture only, but provides a great program related to prison and circus themes which invites everyone to participate. The program this year features circus, tarot workshop, bingo, hairdo workshop, to mention few. There will be music performances and discussions and introductions of situations of political prisoners around the world. And of course the festival will feature tattoo artist ready to give you a tattoo in support of political prisoners! We will also send postcards and letters to prisoners to support them.
Contact us: tattoocircushki[at]riseup.net