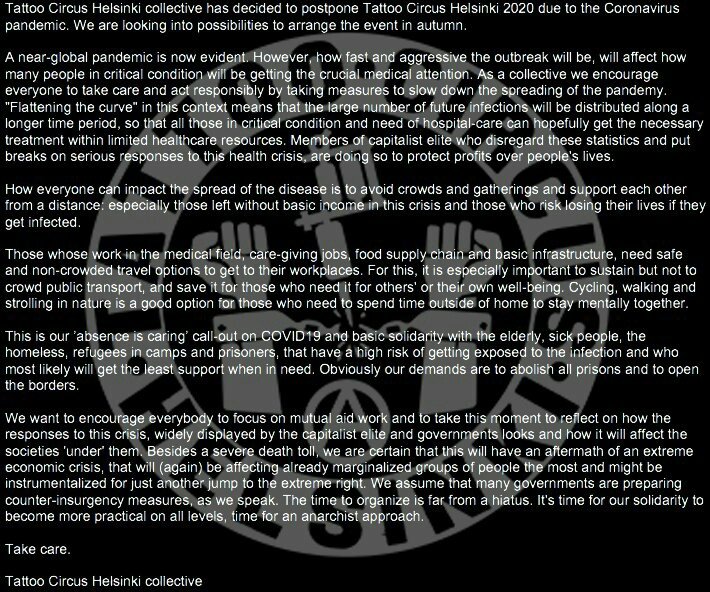 We are looking into possibilities to arrange the event in autumn. You are still invited to the event whenever it will take place and we will get back to you when we have more information.
A near-global pandemic is now evident. However, how fast and aggressive the outbreak will be, will affect how many people in critical condition will be getting crucial medical attention. As a collective, we encourage everyone to take care and act responsibly by taking measures to slow down the spreading of the epidemy. "Flattening the curve" in this context means that a large number of future infections will be distributed along a longer time period so that all those in critical condition and need of hospital–care can hopefully get the necessary treatment within limited healthcare resources. Members of the capitalist elite who disregard these statistics and put breaks on serious responses to this health crisis are doing so to protect profits over people's lives.
How everyone can impact the spread of the disease is to avoid crowds and gatherings and support each other from a distance: especially those left without basic income in this crisis and those who risk losing their lives if they get infected.
Those who work in the medical field, caregiving jobs, food supply chain, and basic infrastructure, need safe and non-crowded travel options to get to their workplaces. For this, it is especially important to sustain but not to crowd public transport, and save it for those who need it for others' or their own well–being. Cycling, walking, and strolling in nature is a good option for those who need to spend time outside of the home to stay mentally together.

This is our 'absence is caring' call-out on COVID19 and basic solidarity with the elderly, sick people, the homeless, refugees in camps and prisoners, that have a high risk of getting exposed to the infection and who most likely will get the least support when in need. Obviously, our demands are to abolish all prisons and to open the borders.
We want to encourage everybody to focus on mutual aid work and to take this moment to reflect on how the responses to this crisis, widely displayed by the capitalist elite and governments, look like and how it will affect the societies 'under' them. Besides a severe death toll, we are certain that this will have an aftermath of an extreme economic crisis, that will (again) be affecting already marginalized groups of people the most and might be instrumentalized for just another jump to the extreme right. We assume that many governments are preparing counter-insurgency measures, as we speak. The time to organise is far from a hiatus. It's time for our solidarity to become more practical on all levels, time for an anarchist approach.
Take care.
Tattoo Circus Helsinki collective